This blog post is a collaboration between several local Manawatu businesses to help people FEEL happier, uplifted, motivated, inspired…Feeling upbeat at this time has been a tad challenging to say the least and as we still have some time ahead of us where travel plans have been cancelled, life goals interrupted and identities altered. We hope you enjoy x
First up we speak with Kate Morland from Studio Rubix, co-founder, Dietitian, Personal Trainer, Reformer Pilates Instructor and Mum of 4!
Wow what a rollercoaster of emotions we have all experienced in the past weeks and months and I'm sure I'm not the only one that has struggled to get out of my PJs and slippers some days. Mindset is very powerful and although we often put effort into a body workout and eating well, we very rarely do a 'mind workout'. But when we think our brain is the most important driver of our emotions, it should be nurtured a bit better right?!
Organise your thoughts; use to-do lists, goal sheets, mindmaps, whatever format, put your ideas and thoughts on to a visual platform
Decluttering is part of it! What makes you feel overwhelmed? Cooking, home schooling, paying staff, developing a new skill? Break it down into small parts. For me I systematically decluttered the house bit by bit as one friend said, "cleaning your entire house at once is like brushing your teeth with oreos in your mouth when you have kids at home".
Space…create it in your head literally and metaphorically. Block out unnecessary noise, mute social chats or news feeds that cause tension or take up too much energy. Be ok to be still, quiet and have space. Don't feel the need to fill silence or time. Perhaps soak in a magnesium bath!
Energise the brain; the brain is hungry using 1/3 of our energy intake so fuel it with wholefoods, think seasonal, fresh and tasty. Don't forget fluids as our brain is 88% water and likes to be hydrated. Brains love omega 3 fatty acids; think oily salmon, sardines and walnuts! Daily exercise is essential; exercise drives formation of happy hormones to feel good. Sunshine is medicine; by activating vitamin D which supports optimal brain function.
Nurture your brain like you would a child's. Positive self talk, rest and connect with uplifting people.
Studio Rubix has a team of Exercise and Nutrition Specialists and they will work with you to help you become stronger physically and mentally, energised and happier with how you are functioning.
https://www.facebook.com/studiorubix/
https://www.instagram.com/studio.rubix
~~~~~~~~~~~~~~~~~~~~~~~~~~~~~~
Next we'd like to introduce you to the clever Nadia. If you've ever stepped into her salon you'll immediately feel this sense of calm and style. Nadia Vroombout owner of NV Hair Design in Grey St, is the expert in creating beautiful hair and shares her top tips: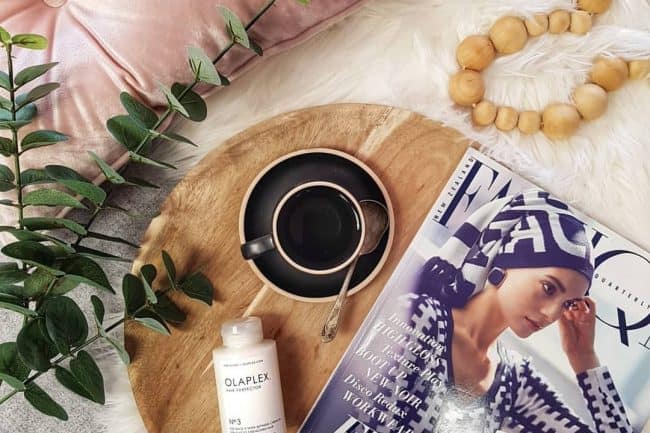 Light a candle and soak in the bath with your favourite hair mask on, ours is Olaplex #3
Before reaching for that box dye:

Try changing your parting
Blondes: Try using a dry shampoo on your root area to soften the depth and add volume, our favourite is Sebastian Drynamic
Brunettes: Use a root powder to add depth and blend those sneaky silver highlights, our favourite is Wella Insta Recharge

Don't cut yourself a fringe! Despite online tutorials out there at the moment, it's not as easy as it may look
AND some non-hair tips…
Be grateful every day – think of all the positives in your bubble
Only watch or read official media releases
Get some fresh air and move your body every day
Shop online – support local businesses
Remember to order your essential supplies online BEFORE they run out (ie. wine, coffee)
Paint your nails
Don't bake too often
Be kind!
Stay connected with Nadia and her amazing team on social
https://www.facebook.com/nvpalmerstonnorth/
https://www.instagram.com/nvhairdesign_pn
~~~~~~~~~~~~~~~~~~~~~~~~~~~~~~
Next up are the amazing Lou and Sam – founders behind Spoilt Beauty located in Ruahine St, Palmerston North. This dynamic duo are just beautiful friendly people who are very passionate about skin health. Here's what they have to say…
A BIG trap to fall into when your not in your usual routine is neglecting your skin. Below are some of our top product related tips to help you on your journey to optimal skin health!
1) First and foremost remember- not all products are created equal and just because it's expensive and appears in glossy magazines does not mean it is the best for your skin! If you want the best result always consult with a skin health professional.
2) Do not skip your evening skin routine – this is when the skin repairs and the magic really happens! Wash your face every night (whether or not you are wearing make up) and follow with a good night cream.
3) Never underestimate the power of a good sunscreen. There is no point investing in your skin if you are going to leave it exposed to the biggest age aggressor…the sun!
4) Ditch the granules. Granules often found in exfoliators can do more harm than good causing breakouts, skin sensitivities and damage to the skin.
5) When applying eye cream do so to the orbital bone (above the cheekbone) with your ring or pinky fingers. Use a soft sweeping motion from the inside out towards the temples. This improves sluggish circulation and will help to improve puffiness under the eyes.
6) Take a look at the make up your are wearing – has it been formulated with your skins best interests at heart? We see time and time again ladies investing in skincare only to go and take 2 steps backwards and hinder their results with the make up they are wearing everyday.
If you have questions about any of the information above and what you can do to help improve your skin – get in touch. Skin is our thing! And we are here to help you get the best out of yours.
You can view information on our beloved skincare and make up ranges in the links below.
https://spoilt-beauty.co.nz/products/nimue-skin-technology/
https://spoilt-beauty.co.nz/products/curtis-collection/
https://spoilt-beauty.co.nz/products/adashiko/
Follow us on Facebook and Instagram for more inspiration
~~~~~~~~~~~~~~~~~~~~~~~~~~~~~~
And to continue your journey towards feeling and looking great, we introduce a talented lady who will help you transform your environment which has a major influence on how we function and feel.
Your home, your sanctuary… two minutes with Emma Brown – Founder and Creative Director, Emma Brown Design
We have recently been called to live and work in a way that is, for most of us, at odds with the previous 'normal'. Our homes really have become our safe havens – our all-encompassing bubbles.
The space we find ourselves in has the ability to affect our mood, our motivation and our headspace. These past few weeks have given us time to understand what works and truly sparks joy for us in our homes – and also what doesn't.
I've found that during the last five weeks having the smallest amount of routine has helped my mind feel calm, and has also inspired me to make some changes to my space at home. You don't need to make large structural changes or purchase a houseful of new furniture to change the way that your home makes you feel. Having home, school and office all rolled into one these past few has been a challenge I have (mostly) enjoyed. 😉
Making my bed – I always make my bed as soon as I get up, it sets the tone for the day.
Fresh sheets – I love nothing more than a freshly made bed, that feeling of snuggling into crisp sheets off the line. If I could, I would change my sheets everyday! Can you re-create a hotel setting in your home?
Keeping your home organised & tidy – Be realistic about this one, there is a difference between a home and a show home. Having a clear kitchen bench is my priority.
Pick some flowers – Scattering fresh flowers through my home always puts a smile on my face!
Rearrange your furniture – Have a think about how you live in a particular room – can you move your furniture around? A change is as good as a holiday!
Paint! Be brave and change the colour of one of your rooms, even just one wall. Colour plays an important role in the way that we feel and we can change the entire feeling of a room by injecting a small amount of colour and texture.
Can you sew? I loved teaching my girls to sew a couple of weeks ago – they made skirts and I made new cushions for my couch. An instant change in my lounge.
Whatever it is, big or small – our team can make your interior dreams come true. We offer an approach that can embrace both interior design and construction, meaning that not only can we build your dream space, we can also create bespoke interiors that are a true reflection of your story and your lifestyle.
We have just launched our new Virtual Interior Design packages https://www.emmabrown.co.nz/virtual-design-pricelist/, and are loving working with our clients virtually to create spaces that spark joy for them.
Follow us on FB & Instagram for interior inspiration.
https://www.facebook.com/EmmaBrown.co.nz/
https://www.instagram.com/emmabrowndesign
~~~~~~~~~~~~~~~~~~~~~~~~~~~~~~
On a final note, from all of us here at this collaboration we hope you reach out to us in different ways; whether for personalised services, products or just to connect with our online communities. Thank you for taking some precious time out of your day to read our blog!